I. OVERVIEW
So you're thinking you are the best Chimaera Pilot ? Show us ! Sand Wasps are glad to present you their new Space event : The Sand Cup. New goals, new challenges and epic battles awaiting you in June 09 !
Enjoy the fights since the sorosuubs/Arena windows : Star Wars fights for real !!!
The Sand Cup is a Space Team PvP League. Teams will fight each over in Arenas around Lok Space. Rangs, previews, interviews and gambling on teams will be avaliable !
So bring you're friend and squadron wingmens and show us your strength and pilot skills !
II. RULES
II.1 TEAMS
The Sand Cup is a 3 ships team based tournament, faction-free (All factions can be a part of the same team). A team can count 5 members to the max (in case of 2 solo ships and an Arc with 2 gunners). Once you're registered in a team, you can't change for the whole event. In the same way you can't be a member of two or more teams in the same time.
NOTA : I'll ask you to only subscribe with only character per count.
II.2 STARSHIPS
Only one ship is allowed per Pilot during the Cup. Once you're registered you can't change, so choose well !
Only the JSF will be banned from the event. But since this will be a tactic competition too, Team ship restriction will be restricted this way :
1.Interceptors (1 per team) :
- TIE Heavy
- TIE adv.
- TIE In.
- RGI
- Z-95 Heavy
- A-wing
- Scyk Heavy
- Vaksai
- Naboo
- Belbullab
- V-wing
2. Medium starship/multiplace starship** (1 per team) :
- TIE Agressor
-Y-Wing
- Adv. X-wing
- Dunelizard
- Krayt
- Arc-170
3. Bomber/Heavy (1 per team) :
- TIE Oppressor
- TIE Bomber
- Y-wing Longprobe
- B-wing
- Kimogilia
- Ixiyen
- Rihhxyrk
- KSE Firespray
** : Gunners are greatly allowed in the team (this is a 3 starship based team, not 3 persons

.
II.3 INSCIPTIONS
Teams will have to subscribe here on the sand forum before Mai 31th. When a Team is set, ships and pilots list will be fixed for the entire event time.
Sub Tag :
[TEAM NAME]
[SIG if you want to post one]
[SHIP NAME] [Type] [PILOTE NAME][GUNNER]
You will have to pay a 25 000 crs. enter fee to Xi'am Xan, Main Sand Cup organizer (/tip Xi'an 25000 bank). A part of the fee will be redistibued to Pilot's orphan Institute.
REMEMBER : If you subscribe for the event, you're agreeing all the rules.
II.4 ARENA
Fights will take place in a virtual spheric arena of 1500m radius around a static Sorosuub (so 3000m Diametra). Pilots will fly into the spehere but are not allowed to escape farest than the Outer Zone. Sorosuubs will be stationned around Lok Space, near Asteroid field too.
Depending of the number of teams 2 to 3 matchs will be played in the same time in different parts of Corellia System.
NOTA : once the sorosuub is stopped he can't move until the end of the match.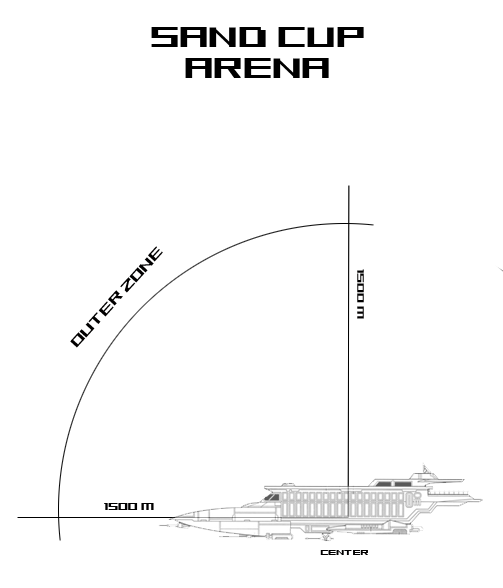 II.5 MATCHS/POINTS
Matchs will be round based, the First team to win 2 rounds, wins the match.
All teams will fight one time each over. The last week will be a Final one (top teams battling each other to determine the finalists).
Matchs will be Wednesday and Thursday to 8 pm GMT to 10 GMT.
Points :
- a winned match counts as 3.
- draw counts as 1 for each team.
- a lost match counts as 0.
II.6 MISSILES/SKILLS
All kind of missiles are allowed but limited to 60-80 per team (depending of the number of teams) for the entire Sand Cup time (a team will have 60-80 missiles count, not by ship, but per team, for the entire event time. If a team Exceed this count. No more missiles will be allowed, beware



).
All kind of Pilot Skills are allowed, except for : Pirate Trap and Bomber Strike.
II.7 REFEREES/ARBITERS.
In addition to the Sorosuub Referee, two Referees in White Belbullabs Will control Arena limits and number of missiles launched. They'll have the last word and are official law executivs during the Tournament. At the end of each round the Arena referees will concert to determine the amount of missiles launched if any doubt remain, the lower amount will be choosed.
They can prononce a draw if needed.
A repeatitiv call for Outer Zone (exceed the 1500 radius arena, heavily) can result in a point penality (one round) too a mach penality (counts as 0 for the fautiv Team).
A Referee can't participate himself to the tournament as pilot/gunner in a team.
To avoid any cheating, a list of the referees will be avaliable. Referees have to be neutral : This violation will result in permanent ban for the team AND the referee.
If you want to help us organizing the event as referees put your presentation in the forum too.
II.8 BEHAVIOUR
This is a friendly and sportiv competition. All rules of respect are applied here too. In case of insults or taunts. Referess and judges can prononce point penalities and permanent ban from the tournament. You're warned !
II.9 RANKING
Each weeks, Sand Cup ranking will be update on the Sand forum. Interviews will be add too.
II.10 GAMBLING
Gambling : Gambling is allowed, official ones will take place between matchs, one day per week, in the Sand Outpost.
You're not allowed to pay a referee to cheat, you're not allowed to pay a team to win. Once a sorosuub Arena is stationned, you've to escape pod to exit, but you'll not be able to reinter during the match.
Example of Official Gambling :
- Team macth lose/win
- Team lose/win point per week
-Team number of missiles launched per week
Only bank tips allowed.
II.11 SAND CUP HOLONET
For the Sand Cup we will open a Matchs commentators Channel (READ ONLY). This way all spectators will enjoy the matchs !
- Sand Cup Radio (READ ONLY) : Global commentators and last matchs results.
Europe-Chimaera / Chat public chat for this galaxy / SandCup / CupHoloRadio.
- Green Arena (READ ONLY) : Green Arena chat room for in-matchs team and referees.
Europe-Chimaera / Chat public chat for this galaxy / SandCup / GreenArena.
- Red Arena (READ ONLY] : Red Arena chat romm for in-matchs teams and referees.
Europe-Chimaera / Chat public chat for this galaxy / SandCup / RedArena.
If you're interesting in becoming a Cup reporter/entertainer feel free to post in the Referee room.
III. Prices
The Wining Team will recieve :
1 Million Credits and a Nova Engine schematic (one per ship).
SAND CUP will start June 10th and 11th (8 p.m. GMT)
Due to hardware heavy issues, I'm differing the limit date to sub in the Sand Cup : You've until the 07/06/06 to register your team .

Enjoy