DAY TWO - Contracting time
You had the whole day to think about the offer and to get your things in order. The dull sight of the factory workers you passed was a perpetual and harsh reminder of your other choice. It was time to leave for Bay 3, despite being barely awake after a hectic night of reflection.
Many ships were docked, and even if it was early in the morning, the anthill was already active. The air was particularly fresh, icy even, closer to the docks. Airships were anchored and secured with a strong iron arm on each side, allowing engineers and sailors to operate around them in relative safety. For now, Bay 3 was crowded with tall dockers, with arms twice the size of your neck, hauling some unknown, but heavy cargo aboard the ship. It was a Junker, with a huge balloon and a long bridge. You noted the guns on the side: a Gatling gun on the upper deck and an unfamiliar, but probably deadly, gun on the bottom. You were both anxious and excited to eventually man those weapons of destruction.
A sailor-like, black man was busy next to the crates in front of the ship. As you moved forward you noted he was as tall and muscular as the dockers; you were a twig compared to him. Showing him the Hexagon, which you had played with the whole night, you said, "Mmmh, hello... I was told to come here and to show this at Bay 3."
"Howdy! Yeah, the old-one prepared the document for you–newbie, heh?" He stretched out and handed a letter to you. "Articles of Agreement, your 'contract'. It's the usual form I think, take some time to read it." It was indeed a document riddled with red-tape, just like many other contracts. You started to read while the sailor was explaining it. "…One month trip, far away in the desert. You will be paid upon our return. Your payment will not be huge, but fair considering your job and efficiency. Since it will be your very first trip, the crewmates will teach you the ropes…"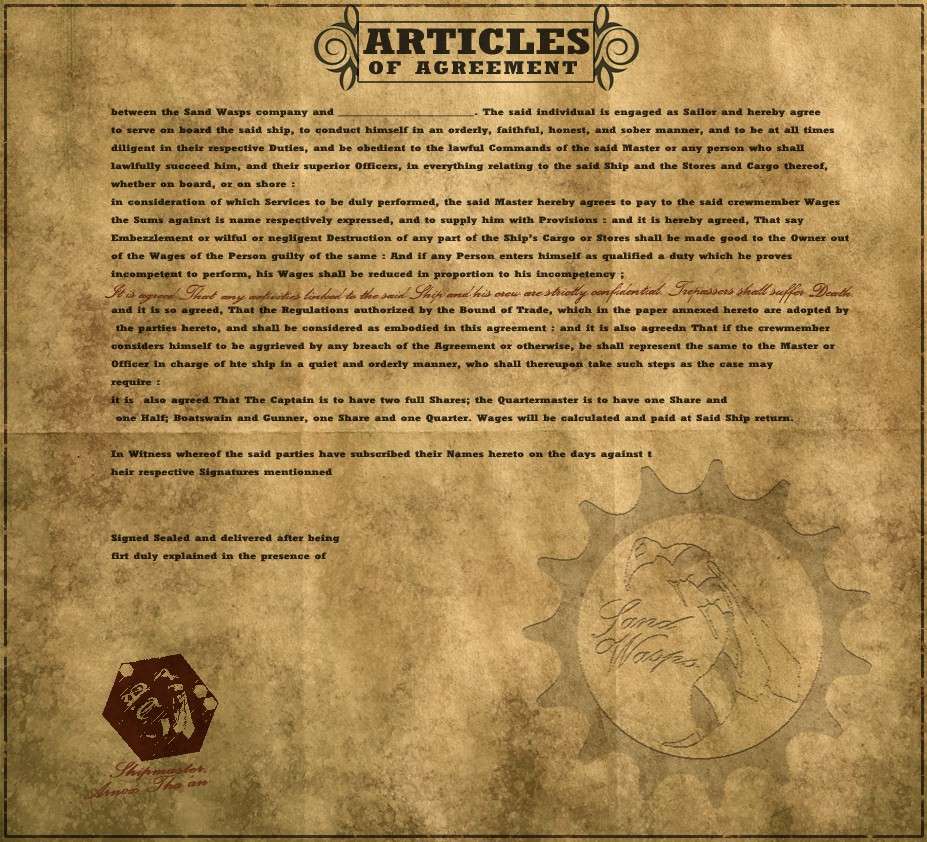 You were trying to resist the sleeping effect of the legal document – you wondered at how accountants and lawyers could sail these words without a pillow. "How much is the wage," you asked, "and where are we going?"
The sailor made a quick mental calculation. "Around 100 coins, if there's no trouble."
"100 coins!? That's five times a full month of work at the factory! Are you sure?"
He replied with a smile full of cunning. "Heh, pretty sure. You see, your job here on the ground is slowly killing you. We are doing a job that can put you into the grave far, far more quickly. Back on topic, though. We will travel to a meeting point with one of our ships. Travel is safer if there are two airships; ambush, air maintenance, and such become simpler. We will go to a desert outpost through official, and less official, docking ports. Once there, we'll trade our stuff for something else and come back here–in one piece and with cargo cleaned if possible."
"Less official?"
His smile became larger. "You see, our two customers are in war against each other. Even if our cargo is legal this time, we would have to pay huge taxes to pass the customs... But there are other ways..."
He stopped his descriptive movements above an open crate, quickly took out something that looked like a utility belt, and threw it at you. You managed to catch it, but bent under the weight. Seeing your embarrassment, the sailor answered your incoming question. "Basic stuff. Call it the 'beginner's kit' if you want." He started to bring out the tools.
"This is a 'Shifting Spanner', your new best friend aboard. It will allow you to rebuild ship parts, make minor fixes, and," he said, making it spin like a knife, "to defend yourself if needed."
He then took a huge mallet from the belt. "'Rubber Mallet.' You will use it for repairs. Don't look at me like that; it's actually quiet useful for intermingled steam pipes, engine parts, or to quickly set a new armor panel on the hull."
Moving to the next piece, he said, "This is 'Chemical Spray.' It's to extinguish fires mainly. Do not inhale."
"And finally, the ammunition." He showed you three heavy pockets with rounds. "Heavy clip rounds–custom made. You will have to man the Gatling guns if needed. Use this ammunition, and only it."
Now freed from the weight of all your piece-of-junk work tools, you felt comfortable enough to worry about common sense. "And if we are boarded? Or if I'm falling from the ship?"
"No boarding, ever. You see," he said, gesturing to the ships, "those monsters are difficult enough to shoot at with guns. I don't think even experienced people would try to board them. And we are doing quarter rounds, so… Nope, no boarding… Oh, well, that reminds me of an old story about totally mad pirates… "Ḥashshāshīn" they were called, if I remember well. Agile and lethal fighters."
"Ugh, yeah, and? Are they dangerous ?"
"More extinct actually. They tried to board a galleon you see... But it was a cloudy day and well… It was a squid at the end." He pointed at a small airship on the far end of the docks. "I hope they enjoyed the view, heh. For your other matter, you will find a safety hook on the side of your utility belt. Just be sure to wear it properly." He gave you back your newly acquired stuff before adding, "If you don't have other questions, and you are okay with the contract, sign it and we will leave within the hour."
He shook your hand vigorously and said, "I'm the Quartermaster, the name is Lockley. You will meet the captain and our gunner soon before the departure." Then he returned to his previous tasks.
You sat there, with a painful hand and carrying tools half your weight. You were not sure how all this would end, but you were sure it would be an interesting time.
---
For applicants, reply with a short presentation and " Signed, [Name]"
2nd pass by Splorer